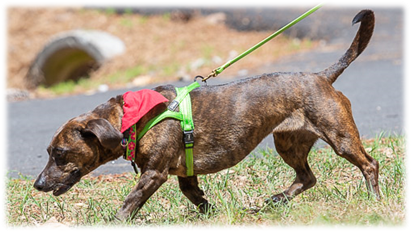 Welcome to
Eager Pup!

Offering classes and events in authentic K9 Nose Work® for "pups" of all ages in Gainesville and communities throughout North Central Florida.

 
K9 Nose Work® is a great new sport utilizing your dog's incredible sense of smell!  Your dog will learn to sniff out target odors in various environments, including interior spaces, collections of boxes and luggage, exterior spaces, and vehicles.



The vibrant community of K9 Nose Work®  is very inclusive, welcoming dogs of all ages, sizes, and capabilities, along with owners of all ages and abilities, for fun in classes, and local, regional, and national competitions.





For more information about K9 Nose Work®, visit 

K9NoseWork

 

and 

National Association of Canine Scent Work® (NACSW)

Eager Pup - K9 Nose Work®
Sniffing Great Fun for Everyone!
 
Certified Nose Work Instructor (CNWI)
Certified Professional Dog Trainer (CPDT)